Help ADHD Awareness Month Go Viral!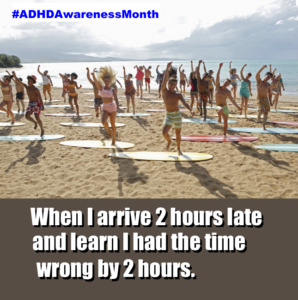 The ADHD Awareness Month Coalition is committed to raising ADHD awareness, removing stigma, and empowering people with ADHD so they can unleash their strengths and create a life they love.
A funny or shocking meme can be shared thousands of times across the Internet. The most popular memes can "go viral" and reach far more people than any single organization can alone, often thousands or millions of viewers.
That's why we're having a contest to see who can create the best ADHD Awareness meme! Watch Alan's video to learn all about it, and read the rules to see how you can qualify.
Funny, irreverent, witty, bold, and often ridiculous meme's make a statement. Let's make a statement about ADHD!
Great Prizes:
A full ADD Crusher™ Program (2 videos, 2 audio companions, 10 PDF Toolkits)
One of two free ADDA annual memberships
One of two free CHADD annual memberships
A signed copy of Coach Linda Walker's "With Time to Spare: The Ultimate Guide to Peak Performance for Entrepreneurs, Adults with ADHD and other Creative Geniuses"
$100 TotallyADD Shopping Spree (Coupon code to download $100 worth of videos from TotallyADD.com)
"The ADHD Parent Manual" video download from ImpactADHD
And more!
Bonus: Prizes for memes with the most votes
Submissions: begin October 1
Contest closes: October 31
Read the rules then submit your own meme and share it with everyone you know! Encourage people to vote for your meme and to share it with their friends!
Make a Meme

Won't you help ADHDAwarenessMonth.org go viral?
Even if you don't create your own meme, submit your favorite memes and help spread ADHD Awareness during ADHD Awareness Month. It's time everyone knew!
ADHD Meme Gallery | ADHD Meme Contest Rules | Upload Your Meme