ADHD is not a simple disorder.
While we need to keep in mind co-occurring conditions, we need to also focus and building on a person's strengths. Keeping our strengths in mind gives us a foundation for growth beyond the struggles presented by ADHD and co-occurring conditions. Dr. Thomas E. Brown has suggestions.
Transcription follows this 2:45 minute video
Have trouble understanding or hearing?
Click the Subtitles/Closed Caption icon at the bottom right while watching the video.
Lightly Edited Transcript
ADHD Awareness Month
Reframing ADHD
Discovering New Perspectives
ADHD is often not simple. Many people still think of it as primarily something characterized by hyperactivity, and I think it's important to restate the fact that there are some people with ADHD who've never been hyperactive and their problem is they tend to be more sluggish, sometimes, in terms of their ability to get things done. You know, it's important to look at these things, but also to keep in mind that they may have important strengths.
You know, I think at the same time we have to talk about comorbidities, on what other difficulties a person has, keep in mind what the strengths of the person are because that's what they can build on. You know, and I think to ignore the person's strengths is a mistake because often people who have ADHD begin to question themselves all the time and ignore some of the real strengths they do have.
But at the same time to be open to the fact that some people who may be very bright and very competent in many other ways may very well be struggling also with depression or with anxiety, with mood problems, with excessive use of marijuana or excessive use of alcohol or other drugs. And these other things need to be taken into account in order to be able to give people a chance to really build on their strengths and not have to be finding themselves boxed in by other things that may be going on.
About the Speaker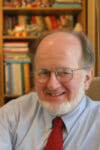 Thomas E. Brown earned his PhD in Clinical Psychology at Yale University and served on the Yale faculty for 25 years. He is now Director of the Brown Clinic for Attention and Related Disorders in Manhattan Beach, CA, is an elected Fellow of the American Psychological Association, and has published numerous articles and six books on ADHD. His website is www.BrownADHDclinic.com