Requesting accomodations might not be an option
Having ADHD can make communication difficult in the workplace. Requesting accommodations isn't always an option. Melissa Orlov offers some ideas on how you can address ADHD challenges to communication and productivity without using ADHD as an excuse.
Transcription follows this 4:01 minute video
Have trouble understanding or hearing?
Click the Subtitles/Closed Caption icon at the bottom right while watching the video.
Lightly Edited Transcription
ADHD Awareness Month
Reframing ADHD
Discovering New Perspectives
So workplace communication is an interesting, and maybe a little bit difficult topic. Not all workplaces are amenable to really accommodating ADHD. So you get the question of: Do I tell them about my ADHD? And, typically, I recommend not bringing it up. People who don't understand ADHD tend to think you're saying, "Well, gee, I have ADHD so I have an excuse for why I can't do this" and ultimately what the workplace cares about is performance.
So a better approach is to work with your organization without labeling the ADHD to get the kind of support that you need. And that might be things like setting aside a block of time where you're not in your email, but you're just responding in depth to things that need to happen. It might be working as part of a team with complementary skill sets. So you might be a really good idea generator and another team partner might be a really good closer around the details and things like that.
So I think the communication in the workplace around ADHD is one of: How do we take the strengths that every person in this organization, or in this group, or in this team, have and build on the strengths? And then for the partner or the person who has the ADHD to take a hard look at the performance feedback that they're getting, and understand whether or not they need some assistance to improve those areas.
I'll give you one example. A man that I worked with, who is a school principal, got fired multiple times, not because he was a bad principal – and he had been an excellent teacher – but because he was having difficulty with the paperwork that was associated with his job. And he got that feedback, but he didn't know how to address it. So I would say I would encourage people to be intrepid about saying, "Okay, I'm getting this feedback." (In his case about not being able to do paperwork.) "I need to learn that – the way that people with ADHD do that stuff," which usually would mean using a coach who can help you with the executive function area.
What kind of organizational system do you need, or do you need a special assistant to help with it? Or how do you handle it, rather than just saying, "Ooh, that doesn't feel good. I'm going to put it somewhere else. I'm not going to deal it with it right now."
Because symptoms don't go away – they get managed if you choose to manage them. But if you don't choose to manage them, they stay there. And that's true in any workplace – and, you know, you have a choice – you ideally want to find a workplace that treasures your strengths and has a strong enough network to not be so worried about any weaknesses you might have.
About the Speaker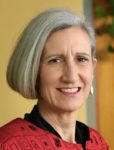 Melissa Orlov is the author of two award-winning books on how adult ADHD impacts couples: The ADHD Effect on Marriage and The Couple's Guide to Thriving with ADHD (with Nancie Kohlenberger). She is a contributor to several others, including the first book for therapists on how to counsel couples impacted by ADHD. She currently blogs for Psychology Today, teaches seminars for couples, therapists and coaches, gives lectures internationally, and writes online at www.adhdmarriage.com where she advises many thousands of couples.