Treating more than one disorder at a time
I think that there's a tendency in medicine sometimes to think in diagnostic silos, that you say, "Okay this person has depression, this person has anxiety, this person has substance use disorders, this person has ADHD," and then everything that you consider about treatment and intervention – what you're going to do to try to help the person – it gets thought about in terms of this particular silo. I think it's really important.
It takes more time to ask the questions, to be able to listen to the answers about where the person's struggles are, where their strengths are. But it's important to get out of the constraints of silo thinking and begin to look at the person as a whole, in terms of their strengths and their difficulties, which may not be adequately contained in a silo, as though they're all one issue.
About the Speaker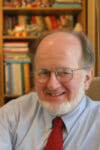 Thomas E. Brown earned his PhD in Clinical Psychology at Yale University and served on the Yale faculty for 25 years. He is now Director of the Brown Clinic for Attention and Related Disorders in Manhattan Beach, CA, is an elected Fellow of the American Psychological Association, and has published numerous articles and six books on ADHD. His website is www.BrownADHDclinic.com