Misinterpretation of patterns cause problems
Becoming aware of patterns in a relationship when a partner has ADHD can help the relationship remain healthy. Symptoms such as distraction can cause hurt feelings when not recognized and addressed by both partners. Melissa Orlov encourages partners to use the tools of good communication to address patterns caused by ADHD.
Transcription follows this 2:14 minute video
Have trouble understanding or hearing?
Click the Subtitles/Closed Caption icon at the bottom right while watching the video.
Lightly Edited Transcription
ADHD Awareness Month
Reframing ADHD
Discovering New Perspectives
Well, so there are some interesting patterns that tend to develop in relationships impacted by ADHD, particularly if the ADHD hasn't been diagnosed yet or is not actively being managed because people misinterpret the symptoms.
And that misinterpretation – so you have a symptom that shows up like distractibility, or having trouble getting things done, or a lot of high emotion – and those get misinterpreted in ways that might suggest to the other partner that a partner is not interested in them, or that they're incapable of doing things, or that they're a mean person or whatever. And so there's this symptom, and then response to that symptom, and then a response to that response, and the patterns are very predictable. So the good news is that when couples learn what those patterns are, and learn how to use the tools that work for couples impacted by ADHD, they can do much, much better.
About the Speaker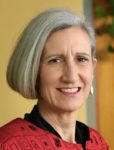 Melissa Orlov is the author of two award-winning books on how adult ADHD impacts couples: The ADHD Effect on Marriage and The Couple's Guide to Thriving with ADHD (with Nancie Kohlenberger). She is a contributor to several others, including the first book for therapists on how to counsel couples impacted by ADHD. She currently blogs for Psychology Today, teaches seminars for couples, therapists and coaches, gives lectures internationally, and writes online at www.adhdmarriage.com where she advises many thousands of couples.