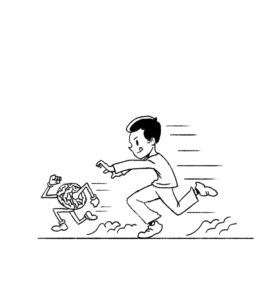 Not discouraged by his diagnosis, a young boy focuses on figuring out how his brain works. He watches his thoughts whiz by and compares his thinking process to a speeding race car with no brakes. He recognizes his brain's unique assets and enthusiastically describes in great detail some of his ADHD superpowers.
Not only open-minded, but he's also an out of the box thinker with great problem solving skills. Spontaneous, brave and resourceful, he always comes up with the best ideas for adventures and his qualities of honesty and empathy make him a great friend.
He wisely acknowledges the traits that he needs to work on which seem to fall into the category of executive functions. He wants to find out more about them and he realizes he has a lot to learn. Once he knows he is surrounded by an ADHD community, he adds asking for help to his expanding list of superpowers.
He turned his ADHD diagnosis into not only a learning experience but also into a self confidence boost. Success!!
Karen Ann Leonard

Read more tips from people about getting a proper diagnosis of ADHD.